Share feedback
Thanks for sharing your feedback!

Latest from Planful! Check out this month's Highlights Video. Prefer reading over watching - switch to Release Notes. Looking for previous Release Notes - visit the Archive.
Streamlined Manage Page: Empowering Seamless Planning and Execution
Empower your marketing planning and execution with Planful for Marketing's enhanced Manage page, providing a consolidated view, streamlined UI customization, performance analysis, and automated workflows for seamless campaign management.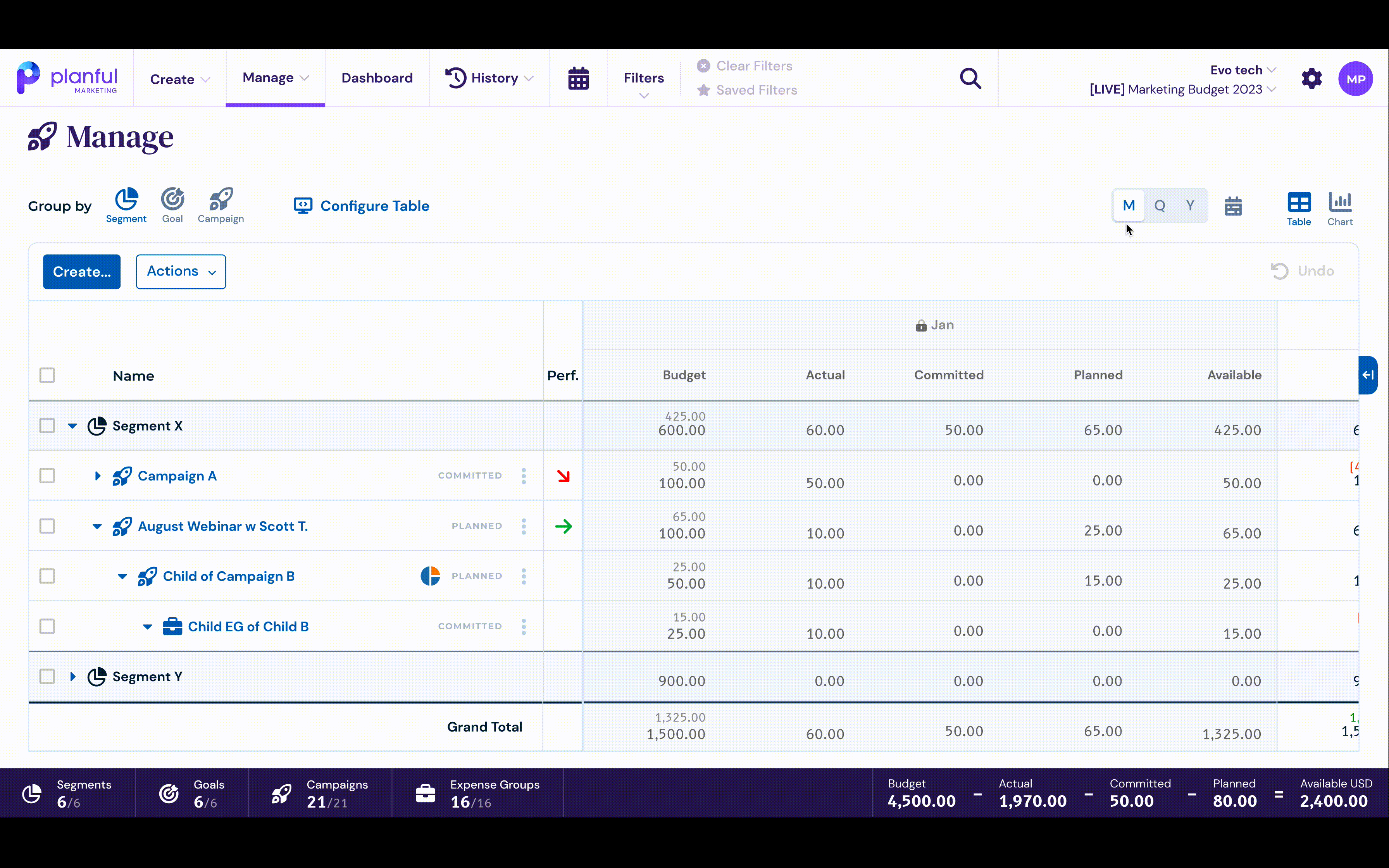 Read More...

In this release, we are excited to introduce the new Manage page, which aims to provide a seamless experience for tracking your planning, budgeting, and performance. Here are the key features:

Consolidated Planning Experience: We have transformed marketing plan execution by offering flexible top-down and bottom-up planning in a consolidated, customizable visualization. This empowers you to automate expenses, gain a quick overview of spending status, and plan campaigns and expense groups in different currencies.
Enhanced Manage Page User Interface (UI): The Manage page UI has been redesigned to offer a comprehensive view of the entire plan on a single page, making management more effortless. You can now customize the UI according to your preferences, such as turning columns on and off, viewing budgets by month, quarter, or year, and quickly identifying any remaining spending.
Performance Mode: With the introduction of Performance Mode on the Manage page, you can now compare the return on investment (ROI), profit, and forecasted performance of your campaigns with other marketing campaigns and channels. This contextual analysis enables informed decision-making.
Streamlined Planning: You can now indicate planned versus committed spend for campaigns and expense groups, supporting best practice workflows and enhancing automation for expenses and purchase orders (POs).
Slide-out Drawers: We have added new slide-out drawers on the Manage page, providing a consolidated view of the campaign, expense group, and expense details in one place. This streamlined interface improves efficiency and accessibility.

Previously, executing marketing plans was challenging due to fragmented strategic documentation, scattered budget and expense management, and disparate performance metrics. The lack of consolidation and continuity hindered visibility, collaboration, and efficiency. There was no unified, standardized marketing planning process to address these issues.

However, with our latest release, we have made usability enhancements to Planful for Marketing, delivering a standardized planning process for marketers. The new UI improvements aim to consolidate budgeting, goals, campaigns, channels, expense groups, expenses, and performance metrics into a single screen. This comprehensive visibility and collaboration will facilitate smoother plan execution and efficient measurement, empowering better decision-making.

Learn more about the Manage page here.
---
Was this article helpful?
---
What's Next